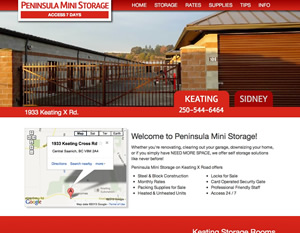 Peninsula Mini Storage wanted a website that was quick and informative. It also had to have an easy method to display their two location (Keating cross road and Sidney BC).
I decided to use WordPress but with a bit of a twist. Here I have a scrolling one page website (…well, technically, two pages – one for each location). The smooth scrolling allows the visitor to go the information they want while keeping the rest of the menu at hand. Visitors can toggle over to the other location and see the different details for that location. All in all a new method for me that I'm happy with…and so is Peninsula Mini Storage.
If you need storage on the Peninsula (or in the Comox valley) be sure to look them up!